Vitali Komarov's Newsletter - Summer 2008
Featured Paintings: Green Landscape. "Painting of a day" blog feature
Dear Art Lovers,
please find my new artworks. They are lush verdant summer landscapes painted with small brush strokes using a lot of green. Green is not one color, but many layers of different structure and different shades.
New feature on my website is "Painting of a day" blog launched in March 2008. I'm painting almost every day during past ten years. Now you can see this daily progress and share your comments.
Your comments and purchases are warmly welcomed, as always.
Happy Summer,
Vitali
----
Photos from my recent art trip to Dordogne, Southwest France. Paintings from this trip will be published soon.
Please come and join to see my paintings.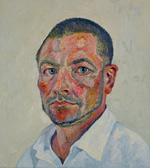 • June 1 - July 6, 2008: The Cultural Arts Council of Estes Park Art Fine Art Gallery, 517 Big Thompson Ave, Estes Park, Colorado

• July 21 - August 18, 2008: Old School House Art Center, 112 Fern Road West, Qualicum Beach, Vancouver, B.C., Canada


Copyright © 1997—2016
Please forward this e-mail to anyone you think might be interested.
If you received this as a forwarded e-mail and would like to subscribe, please go to www.komarovart.com.