Vitali Komarov's Newsletter - Spring 2008
Featured Paintings: Winter and spring landscapes and flowers
Dear Art Lovers,
Please look at my new flower paintings. There are the miniature works done with a limited palette of colors. Flowers are painted on a background, not made with lines, but with color. So there is softness about the picture that emphasizes the contrast in the flower's colors.
Also please look at my winter and spring landscape. They look peaceful and extremely realistic, vivid with strong and warm colors.
Most paintings are done with a square canvas.
OK, back to the easel. Enjoy.
Vitali
Please come and join to see my paintings.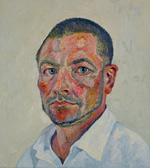 • June 1 - July 6, 2008: The Cultural Arts Council of Estes Park Art Fine Art Gallery, 517 Big Thompson Ave, Estes Park, Colorado

• July 21 - August 18, 2008: Old School House Art Center, 112 Fern Road West, Qualicum Beach, Vancouver, B.C., Canada


Copyright © 1997—2016
Please forward this e-mail to anyone you think might be interested.
If you received this as a forwarded e-mail and would like to subscribe, please go to www.komarovart.com.